Synopsis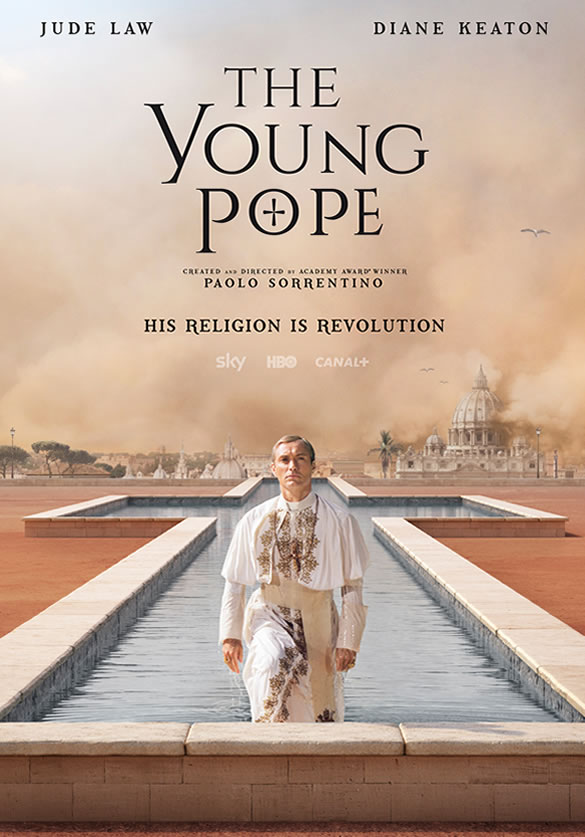 Lenny Belardo is the youngest Pope in history but also the first American pontiff. His radical ideas could change the Roman Catholic church, but underlying many of his choices is an ancient sorrow and a tormented relationship with his faith.
Lenny Belardo is Pius XIII, the first American Pope. But Lenny Belardo, at age 47, is also the youngest Pope in history, and he clearly has shown that he has some very strong ideas about how to guide his papacy: from the very outset he gives the impression of being a reactionary, on the threshold of obscurantism, and he takes a stance of open conflict with the highest ecclesiastical hierarchies, of which the Cardinal Secretary of State Voiello is perhaps the most notable member. At the same time, Lenny is a fragile man, haunted by a painful event bound up with the past, something that torments his entire relationship with the faith. At his side is Sister Mary: the woman who took him in at the orphanage when his parents abandoned him, and who has been there for him ever since. On the first day of his papacy, Lenny will meet a number of key figures who are to accompany him on his journey: Voiello, Monsignor Gutierrez, the Master of Pontifical Liturgical Celebrations of the Vatican, and Don Tommaso, the father confessor whom Lenny will convince to betray the secrecy of the seal of the confessional.
Director's Notes
The clear signs of God's existence. The clear signs of God's absence. How faith can be searched for and lost. The greatness of holiness, so great as to be unbearable when you are fighting temptations and when all you can do is to yield to them. The inner struggle between the huge responsibility of the Head of the Catholic Church and the miseries of the simple man that fate (or the Holy Spirit) chose as Pontiff. Finally, how to handle and manipulate power in a state whose dogma and moral imperative is the renunciation of power and selfless love towards one's neighbour. That is what The Young Pope is about.
Paolo Sorrentino
Director
Paolo Sorrentino, director and screenwriter, was born in Naples in 1970. In 2001, he made his first feature-length film, One Man Up (L'uomo in più), starring Toni Servillo and Andrea Renzi.
Read more »
Technical Cast
Paolo Sorrentino
con
Umberto Contarello
Tony Grisoni
Stefano Rulli
Carlo Poggioli
Luca Canfora
Executive producers for Wildside
Lorenzo Mieli
Mario Gianani
John Lyons
Caroline Benjo
Carole Scotta
Simon Arnal
Jaume Roures
Javier Méndez
Nils Hartmann
Roberto Amoroso
Sonia Rovai
Haut et Court TV
Mediapro
International distribution
Fremantlemedia International